TEL:+1855 51 HELLO(43556)
Distributed by Commerce Talaria Inc. (Canada)
ADD:237COTE VERTU,#33563
ST-LAURENT,QUEBEC,CANADA,
H4N1C8
IN US BY VITALABS INC.
PRODUCT CATEGORIES > PRODUCT INTRODUCTION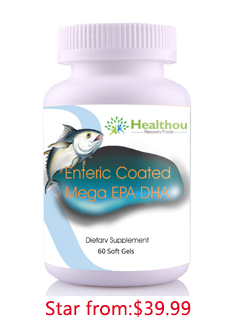 Mega EPA / DHA

Commodity Item no : 06085021940607
Packing Specification : 60/90/120 Softgel
Edible Methods: One softgel, taken 1 to 2 times daily
PRODUCT REVIEWS
Overall rating :

I have no idea if these do what they say they do, but Dr. Oz says the amount in these caps are what I need. No fishy taste, which is a good thing.

Randall F. Smith
Through extensive research, I have discovered that the best fish oil supplement is one that has a higher DHA than EPA. These are very hard to find, and usually much more expensive. This product is good, and healthou has a good rating for quality.

Frances D. Dillon
i have bipolar disorder. i can tell it helps me to clear my mind and listen better. mental power is good

atlanta
I like this product and because of that order 2 bottle this fish oil. I hope so it would be best for me

Tex
My eyes are easily tired because of the computer work. I bought this for my parents and friends and myself. The price is good.

hung32817

CONTACT US | SECURITY AUTHENTICATION | SITE MAP
Tel: +1 855 51 HELLO (43556)
Distributed by Commerce Talaria Inc. (Canada)
ADD: 237 COTE VERTU,#33563 ST-LAURENT,QUEBEC,CANADA,H4N1C8
Produced by Vitalabs Inc. in US
There statements have not been evaluated by the Food and Drug Administration. This product is not intended to diagnose,treat,cure,or prevent any disease.