TEL:+1855 51 HELLO(43556)
Distributed by Commerce Talaria Inc. (Canada)
ADD:237COTE VERTU,#33563
ST-LAURENT,QUEBEC,CANADA,
H4N1C8
IN US BY VITALABS INC.
PRODUCT CATEGORIES > PRODUCT INTRODUCTION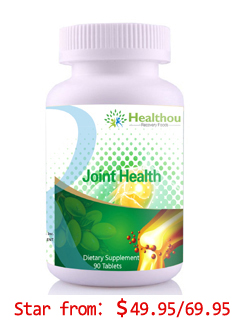 Joint Health

Commodity Item no : 06085052110901
Packing Specification : 60/90/120 Tablet
Edible Methods: take one (1)to two (2) tablets three times daily
PRODUCT REVIEWS
Overall rating :

fake website

Fuck
My knees are doing much better going up and down the stairs after using this for only a couple weeks, especially in my left leg. I was taking the Costco brand and it didn't do anything and i actually kind of felt worse, but this one seems to be working great. I hope it gets even better after a few more weeks of use.

vielar
If you've have joint issues of any kind, you know what it's like to wake up in the morning and feel stiff. I used to take a while before I felt normal but thanks to the joint pain relief I get from regularly using Joint Health, the pain has completely disappeared, and I can be active and I am loving Joint Health!. I can't say enough about what Joint Health has been able to do for me - I would fully recommend this joint supplement to help you experience joint pain relief as well.

Melanie
I have taken this product for not quite a month and notice the improvement with my joints already, especially my knees. I would have problems sometimes with the weather and my knees. Now that the cooler air is coming upon us, I do not notice any pains or stiffness as much for the first time. I am going to keep taking this product as I am already seeing results. If I cannot feel as much pressure and stiffness in my knees at this point, then I am going to go for more!!!! I cannot believe how this product works. I did not have high hopes at all but gave it s shot. I seen this product when looking for sleep aids also sold by this seller. I am sure I am going to be a regular customer from this point and hope to see some other products come from them!!!

Padilla Enterprises
I have not had the product very long. I am taking it as directed but it is too early to tell.

David E. Biggar

CONTACT US | SECURITY AUTHENTICATION | SITE MAP
Tel: +1 855 51 HELLO (43556)
Distributed by Commerce Talaria Inc. (Canada)
ADD: 237 COTE VERTU,#33563 ST-LAURENT,QUEBEC,CANADA,H4N1C8
Produced by Vitalabs Inc. in US
There statements have not been evaluated by the Food and Drug Administration. This product is not intended to diagnose,treat,cure,or prevent any disease.