TEL:+1855 51 HELLO(43556)
Distributed by Commerce Talaria Inc. (Canada)
ADD:237COTE VERTU,#33563
ST-LAURENT,QUEBEC,CANADA,
H4N1C8
IN US BY VITALABS INC.
PRODUCT CATEGORIES > PRODUCT INTRODUCTION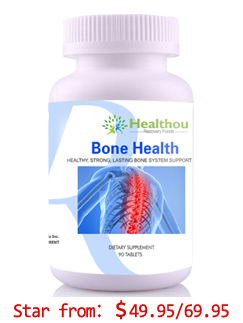 Bone Rebuilder

Commodity Item no : 06085219030905
Packing Specification : 60/90/120 Tablet
Edible Methods: take three(3) tablets daily
PRODUCT REVIEWS
Overall rating :

Much Better price than my local Rite-Aid for the same exact brand. Time will tell if it works as advertised.

Martha Zuckerman
I take 2 of these on 3 hours after and before eating anything everyday. Used to have transparent thin nails that shredded easily. Now they are opaque thick and long.

OmGirl
A great substitute for the very expensive prescription bone strengtheners. I have taken it about a year, with no side effects.

rehabrn
I have been taking this product for several years - coupled with a good fish oil, D3 and K2. My bone density has stayed stable in spite of chemotherapy and radiation. My doctor recommended Bone Strength Take Care for me.

E. Steiner
I had pains in base of thumb for years. Thot I'd have to stop playing guitar. Than pain went away within 24 hours. Was amazed. Still starts to come back if I don't take it. Goes right away when I do. Love it. I guess I'm hooked for life.

phil

CONTACT US | SECURITY AUTHENTICATION | SITE MAP
Tel: +1 855 51 HELLO (43556)
Distributed by Commerce Talaria Inc. (Canada)
ADD: 237 COTE VERTU,#33563 ST-LAURENT,QUEBEC,CANADA,H4N1C8
Produced by Vitalabs Inc. in US
There statements have not been evaluated by the Food and Drug Administration. This product is not intended to diagnose,treat,cure,or prevent any disease.